MAY 9 – MAY 19
BILINGUAL MONTRÉAL PREMIERE
While still in the throes of young love, a couple pledge to return to the site of their first meeting ever year in order to reenact word-for-word their faithful encounter. How do we love? Or rather, how don't we love? Marc Prescott's text is unapologetically tender, sending us straight to the heart of great love: from fluttering hearts, to subtle betrayals, to the uncertainty of sudden loneliness. Encore blends comedy, poetry and insight in a manner that is a far cry from the cynicism of our time. It dares to speak of true feelings, the ones that shake us to our core.
Featuring: Matthew Kabwe, Kontoyanni
Directed by Liz Valdez
Assistant directors: Olivia Woods, Justin Johnson
Stage Manager: Danielle Laurin
Set Design: Jaclyn Turner
Costume and Light Design: Zoe Roux
Projection Design: Frédéric St-Hilaire
Sound Design: Rehan Lalani
Music and composition: Jacob Burtenshaw
Production Manager and Technical Director: Andrew Scriver
Production Assistant: Charley Hausknost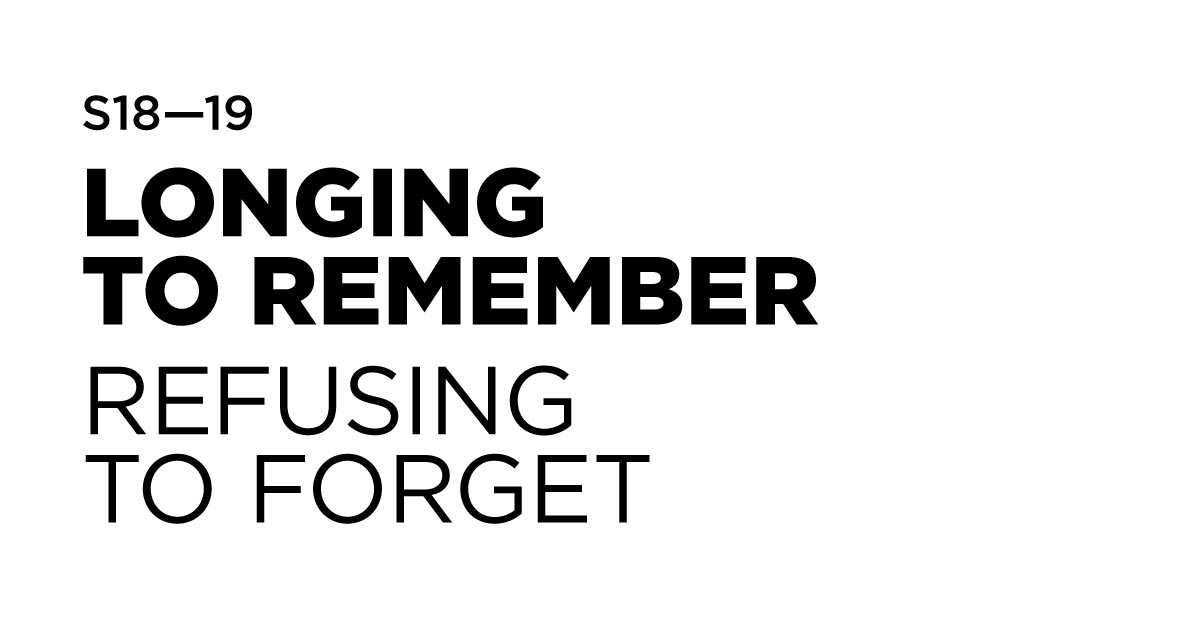 Tableau D'Hôte Theatre recently announced its 2018-2019 season alongside eight other professional English Montréal theatre companies. Our upcoming season encourages audiences to see the world differently by examining what we choose to remember or forget, and who society tries to erase along the way. How does memory guide and shape the lives we live, and how can we harness the stories of past struggles and acts of defiance to build a kinder, fairer world?
MORE THAN A FOOTNOTE
Recipient of 2018 commission
Anna Burkholder's The Caravan has been selected as the recipient of this year's edition of our More than a footnote's development program!
The Caravan follows Ellen, a pregnant student from Simon Fraser University, as she travels to Parliament in the Abortion Caravan, the first national feminist protest, fighting for abortion access and equality. A recent amendment to the Criminal Code restricted legal access to abortion and thousands of Canadian women were dying in an underground abortion trade.
Hearing, finding, translating Kiyoko
First in a series of articles by Julie Tamiko Manning about her process, her discoveries, and her struggles while writing Mizushōbai (The Water Trade), the recipient of the inaugural 2017 edition of More than a Footnote 
"We could hear the tone and tilt and burst of Kiyoko's voice but no one understood Japanese.  Except Ayumi.  The performance artist.  The runner.  The immunologist student. The sister of the writer whose novels I ate up because I ate up anything I could find from Japanese Canadian artists because I felt so alone and those were the people who made me see that I could be Japanese Canadian and an artist."
Want to help Tableau D'Hôte Theatre out?
Would you be willing to make a monthly donation to help Tableau D'Hôte continue to be Montréal's home for Canadian theatre? We're pleased to announce the launch of our 10x100 drive. We're looking for 100 art lovers who are willing and able to make $10 monthly donations for the next year.