This post is the first in a series of articles by Julie Tamiko Manning about her process, her discoveries, and her struggles while writing Mizushōbai (The Water Trade) as part of Tableau D'Hôte Theatre's More than a Footnote program
---
I first came upon the story of Kiyoko Tanaka Goto when I was asked, along with 3 other artists, to create a performance piece for Spatial Poetics, Powell Street Festival Society's annual commissioning of experimental performance pieces.  Two theatre artists (myself and Lisa C. Ravensbergen), one musician (Mark Haney) and one performance artist (Ayumi Goto) were invited to Vancouver to use what we knew of Kiyoko Tanaka Goto as a starting point and to "create a new performance together and encouraged to work beyond their usual disciplines."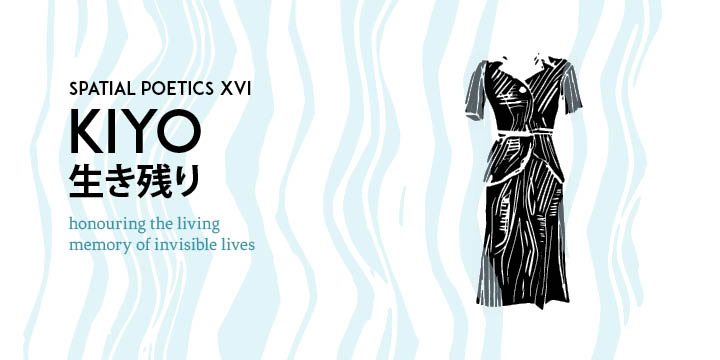 We had very little to go on: a quick visit to the Nikkei (Japanese diaspora) National Museum in Burnaby, BC, where we were able to see 20+ Western style dresses of Kiyoko's, tins that had once held face powders and puffs, an iron hair crimper, a Player's cigarette tin, a material rice bag (any respectable Japanese Canadian has something made out of a Calrose Rice bag: an apron, a tea cloth…) and more hats than I have worn in my entire lifetime: headband hats, pillbox hats, felt hats, velvet hats, straw hats, turbans, hats adorned with feathers, pearls, rhinestones, a bowler hat, fedoras and hats made almost entirely of black netting, white netting, beige netting, taupe netting, mauve netting, netting, netting, netting. There were mostly grooming items and clothing. Bits and pieces.
We had 2 pages of printed information about Kiyoko, translated from a four-hour interview with her, with additional translations by UBC professor Ayaka Yoshimizu. Although helpful, it was still only 5 minutes of information boiled down from four hours of Kiyo speaking about her life.  We had access to this interview on CD, but it was in Japanese. We could hear the tone and tilt and burst of her voice but no one understood Japanese.  Except Ayumi.  The performance artist.  The runner.  The immunologist student. The sister of the writer whose novels I ate up because I ate up anything I could find from Japanese Canadian artists because I felt so alone and those were the people who made me see that I could be Japanese Canadian and an artist.
When I was commissioned by Tableau D'Hôte Theatre to write this play, I asked if they could engage Ayumi to translate all four hours of the interview with Kiyoko. Very thankfully, they were able to. Ayumi was uncertain of her skill to translate it properly at first and tried to pass it off to a translator, but I was absolutely certain that Ayumi was the best person for me to work with.  At the time, Ayumi had jumped into Kiyoko's life much deeper than I had- it was almost as if she had an uncanny ability to speak with her, not in a literal way, of course, but Kiyoko and Ayumi's parents had come from the same area in Japan and so the wall between Ayumi and Kiyo was somehow thinner.  Besides, she shared the burning curiosity for Kiyoko that I had.
Ayumi accepted the job, and she asked that her mother, Kyoko Goto (although the name is incredibly similar, there is no relation…that we know of), be allowed to work with her, as her mother was more familiar with the Kyushu dialect that Kiyoko habitually fell into and could be integral to the translation process.  As a result, their translation is riddled with clues for me, for example: they note when Kiyoko falls back into her Kyushu dialect and when she adopts a "finer" Tokyo dialect, which I liken to the notice we should take when one of Shakespeare's character's switches between poetry and prose; I have indications of when Kiyoko squeaks into a childlike tone and when she rebuilds her armor with a gravelly snort and guffaw; and when Kiyoko was being mysterious and evasive with a question, I even have Ayumi and her mother's opinion of what she may have been hiding, just from the words Kiyoko chose to use or not use.
Ayumi and her mother's translation of Kiyoko's personality as well as her words will help me fill in the gaping holes her little-known life, and hopefully bring her out of the shadows and above the disapproving whispers of the status-quo.